Matt Smith - Business Development
Matt Smith - Business Development
Last updated 2nd August 2019 • Ethan Mathews • JaeVee
Hi Matt. Tell us about about your role.
I am the business development consultant here at JaeVee. My position is to handle all new business for the company (as well as maintaining clients), whilst proactively pushing the company forward with exciting new development projects!
On a day to day basis I will liaise with property developers, finance brokers, planning consultants, architects and estate agents, just to name a few!
I love my role as it's a very tough challenge but at the same time a rewarding one, I meet and speak to new people as well as maintaining current clients on their schemes. Sourcing, jumping on opportunities and potential clients is a key part to success.
What do you enjoy most?
Every day is a challenge and different. Nothing is the same and I love that!
My role is very interesting and at the same time keeps me very motivated to push the company forward and is rewarding! Oh, not forgetting the team, we all get on really well and it's a fun place to work.
What drew you to JaeVee?
The model is fantastic, provides a rewarding career and the opportunity to work alongside my brothers. My passion is property, always has been in my career due to the rewards and nature of the property world.
Not forgetting of course to push myself for a new challenge and progress my knowledge within property. Everyone in JaeVee is very welcoming. I settled in very quickly and I was excited to be a part of the company.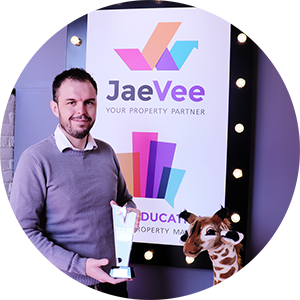 What motivates you?
Money, success and to provide a good life for my family.
Who is your favourite superhero and why?
ERMMMM...... let me think about this one. I would say Batman.
Not only is Bruce Wayne a multi billionaire with a lot of property and success, he defeated Superman and Bane! The Dark Knight trilogy was simply superb.
What do you enjoy doing when you're not working?
I am mad on football. I love running, gym, movies and cinema. Regularly attend matches of the best team in London, which is of course Arsenal! And in the mix of all this spending quality time with my PlayStation, lovely wife and family!
Do you have a secret talent that no one knows about?
I'm a FIFA PS4 king and of computer games in general. I have a strong power to destroy anyone in my way! Some people say I am also good at singing, that depends on the song of course!
Do you have a favourite quote?
Winners make it happen, losers let it happen.
Do you know any random facts?
For the construction of the artificial Dubai's palm islands, they have enough sand to fill nearly three Empire State buildings!
Also within the skyscrapers in Dubai, they have engineered water on a constant circular system throughout to keep them cool from the hot climate.
Another bit of knowledge for you, did you know that Arsenal are the only team within the Premier League era since it formed in 1992-1993 to maintain an entire season unbeaten! INVINCIBLES we shall remain :)
Favourite band and type of music?
I am not fussy when it comes to music, as I do like a variety. Although I would say 80's music is my favourite!
I wouldn't say Bros is my favourite group within that era, god don't let my wife know I said that!
If you could pick any biscuit to eat, which would it be?
I tend to not eat biscuits as they are bad for you... but if i did I would say a chocolate digestive!