How to Get Started in Property Investment
How to Get Started in Property Investment
Last updated 14th February 2021 • Ethan Mathews • JaeVee
Generally speaking, anyone can begin with buy-to-let and house flipping property investment strategies.
But usually, only those who have had a knee deep in the property game will be able to leverage their experience and diversified assets to form partnerships, release equity, source deals, develop new-builds and lead or support large-scale developments for additional streams of income.
Property Investment Guide
How does property investment work?
To summarise; A property investment works by generating a higher return, in the form of a lump sum or a monthly income, as a result of the time and equity you have put in to complete and exit from a feasible project.
In the common case of requiring time and equity from others, the project must generate enough revenue to cover the costs of labour and interest, accumulated within the set terms (typically 18 - 60 months) to ensure you still turn a profit.
To build up a profitable property investment portfolio as fast as possible, you will need to diversify your assets and exit strategies.
Diversification reduces the overall risk from the slumps of the property market, that diverges from being in more or less benefit of your assets periodically. That is to say, the more diverse they are, the more partial and durable a slump will be to your portfolio.
The property market is on a gradual upward trend, so long as you can hold on to your assets, you will have opportunities to exit on select assets at the best time to achieve the maximum profit or to at least make way for greater assets.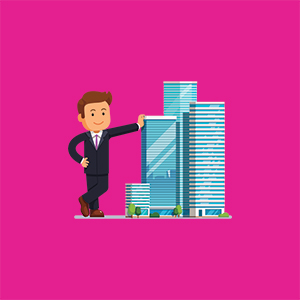 How to become a property investor
UK Property Market
Investment property finance options
The best property investment strategies
Buy to let
Buy to let or 'vanilla buy to let' is the most popular and traditional property investment strategy.
This is where one would buy a property with the aim of letting it out to tenants, hence reaping the benefits of investing in rental properties by generating an income over a long term period.
This is one of the best property investment strategies for those who are just starting out, and most of all those that have the funds to put down a deposit or can buy outright.
Find out more:
Buy to sell (House flipping)
Similar to buy to let, you buy a property, add value to it and then sell it on for a profit.
This is one of the most profitable property investment strategies when done properly, although it is reliant on the property market.
A broad knowledge of selling properties will teach you the general best time to sell.
This is an essential skill which you will pick up over time as a property developer, but in the mean time - to avoid costly mistakes - always seek advice before making any irrational moves.
Find out more:
Partnership investments and joint ventures
You may possess the skills but not the funds to leap into the world of property development.
A partnership investment is where two or more parties come together on a property investment.
The risk is shared, and you normally go in with each party bringing something different to the partnership which makes it one of the best property investment strategies.
Find out more:
Advert - Invest In Shares
Recycling your original deposit by releasing equity
One of the best property investment strategies is where you take your original deposit and then reinvest it again so it can be used for multiple properties.
To do this, you buy the property, refurbish it, increase the value and then re mortgage it.
You then take the value of the original deposit and refurbishment costs out and reinvest.
This strategy is not for a first timer as it does need a lot of experience and managing costs and finance knowledge.
Find out more:
HMO - houses with multiple occupancy
This is rapidly becoming one of the more popular property investment strategies and has the potential to generate multiple healthy rental yields which are comparably higher than a normal buy to let.
There are slightly different rules and more costs involved, such as shared facilities and utilities to factor in, but the potential income on offer makes it a very worthwhile investment to get involved with.
Social and affordable housing
With spiking homelessness and the UK's new social and affordable housing regulations and homeless Reduction bill this is quickly becoming one of the best property investment strategies.
It will involve working with social services, third party agencies and those on a low income and universal credit. It is a hands on strategy with deep involvement for the landlord but it is profitable and adds social value to investments.
Whatever strategy you go for, we advise you to do your research and cater for all eventualities.
Trading leads / property sourcing
There are ways to get into the investment sector without putting large amounts of money down.
A great way to build your income is to trade leads with other investors. For this you would need to know a good property deal when you see it, and be in frequent touch with the market sellers who would notify you.
You would then sell on the 'lead' to an interested investor. The more work on the lead, the more money you can charge for it.
This is fairly risk free which makes it one of the best ways to earn a quick buck in the property development game, however, you would need a fair amount of experience and time to dedicate to this strategy.
Property Risk Management
Risk - the word that's most likely to scare off budding property investors in their tracks.
But confident property investors understand that, when handled properly, risk = opportunity.
So how can we protect our property investments to make sure we've got the best chances for property risk management?
Our guide will show you the top strategies for making sure your property investment is sound.
The right price
The most important thing for managing risk in your property investment is securing your property for the best price possible. If you pay too much, you'll be risking your profit margin.
To make sure you're playing smart, you should research how much comparable properties have sold for and the average area rent, through resources like the Property Data website.
You also need to keep track of the projected capital growth in your area. If you want to raise your chances of getting property the perfect price, then there are a number of investment strategies that are likely to help: - Off plan property - Off market property - Buying at auction
Due diligence
Property prices aren't the only aspect of your due diligence that will protect your investment.
To protect yourself properly you should research the breadth of the market. Look at employment levels, and any environmental concerns such as flood risks. Speak to letting and estate agents in the area - and perhaps even locals - to gain valuable insights into the area that you can't find on the net.
Lastly you'll need to have all the taxes covered, and have a plan B, C or even D for if things don't quite go to plan.
And remember - just because the odds are great doesn't mean they'll always stay that way, so try to predict whether or not it is at the end of its life cycle - it might be better to target up and coming areas such as Birmingham, Brighton and Coventry.
Company due diligence
Your property isn't the only thing you'll have to research to protect your investment.
Always research the company you're looking to invest with.
Take a look at their track record on companies house, look at their reviews online - and be wary if they don't have any, or they're all too good to be true.
Have they always paid out? Are their returns realistic? Have they ever made a loss - and how did they bounce back?
Assess the market
Getting the timing right is also a big part of property risk management - you should sell in a market where you have a high range of buyer demand and a good level of transactions.
You'll also need to be confident and know how to read behind the lines - listen to your own experience and the experience of other property investors instead of any mass panic.
Rising interest rates
This is one of the biggest market factors you'll have to keep an eye on, as it could turn an initially sound mortgage investment into something shakier by hiking up your repayments.
While this doesn't look likely to happen any time soon, you should still cultivate a small margin between your mortgage repayments and the rent payments so that you'll be covered if the worst should happen.
Rent arrears
This is a landlord's worst nightmare, but a relatively easy risk to protect yourself against. Make sure your lettings agent or property manager undertakes the relevant background checks.
You could also look into a rent guarantee scheme or try to see if your landlord insurance will cover unpaid rent.
Avoid negligence
With the government cracking down on 'rogue landlords' harder than ever before, you have even more of a duty to protect yourself from being accused of negligence.
If a tenant hurts themselves in your house due to a problem you knew about they could sue you.
Maintain the house well and your tenants will reward you by staying in your property for longer, cutting the costs and hassle of securing new tenants.
Secure insurance
Securing insurance is another no-brainer for managing risk.
As well as landlord insurance to protect you if you're planning to let out your property yourself, you'll want to encourage your renters to take out their own insurance so that in the worst case scenario, they'll claim against their own insurance rather than yours.
Lastly, you'll need to insure the property itself.
Maintenance costs
Make sure you've made an accurate assessment of your maintenance costs, and always keep in mind that property investment is meant to be a long term arrangement, so stay on top of upkeep and household appliances & factor these into your budget.
Make sure you have a survey report & home buyer's report. While you might not see any maintenance costs for months, you've got to remember that these costs have a way of hitting you all at once, so it's always easier to deal with it if you've already planned out a contingency fund.
Liquidity
The reason to go into property for the long haul is because it reduces the risk of losing your cash.
Thrifty long term investors with the savvy to keep their profits tucked away for reinvestment have the best chance of weathering any market storms.
A great property risk management strategy requires you to diversify your property portfolio to spread out your liquidity. By having a variety such as buy to let, buy to sell, build to rent and commercial properties you'll have a good variety of assets to profit for or sell to buffer your profits.
Hedge
Another way you can protect your property investment is by hedging. You can achieve it through a variety of methods that will boost your liquidity: - Sell some of your equity - Sell some direct property exposure - Reduce your amount of borrowing by prioritising existing debt - Sell certain assets while there's good market demand
One last thing...
One risk management strategy is to invest hands-off, investing in property without buying one yourself. For more property investment information have a look at the JaeVee blog.
Please note this blog post is not to be considered as investment advice. We recommend you seek independent financial advice and conduct your own due diligence before making any investment.
*Please note this blog post is not to be considered as investment advice. We recommend you seek independent financial advice and conduct your own due diligence before making any investment.